All data must be read in conjunction with the survey limitations
The doses of benzodiazepines taken for all those participating in the surveys were converted to Valium equivalencies* for comparison purposes. Seventy-three percent (73%) of respondents had a daily dose of 40mg or less, Valium equivalent. Seven percent (7%) had a daily dose of over 120mg. The maximum dose encountered was 500mg Valium equivalent.
*Valium equivalencies are calculated based on the Ashton Manual. These equivalents do not agree with those used by some authors and/or doctors. However they are firmly based on Dr. Ashton's clinical experience.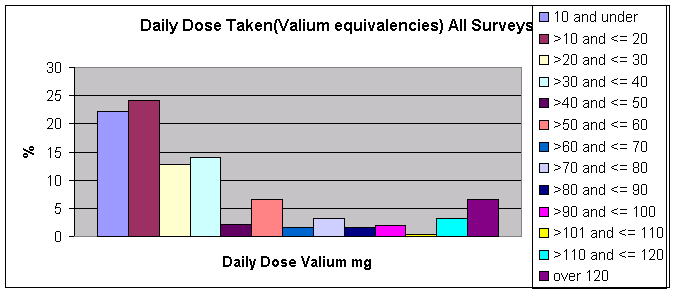 The graph below shows the median daily dose in Valium equivalencies by the main types of benzodiazepines over all surveys. The median daily dose of those taking Xanax and Klonopin was 30mg per day, compared to Valium with a median dose of 15mg and Ativan with a median dose of 20mg.