All data must be read in conjunction with the survey limitations
Part of the reasoning behind introducing the questions about a respondent's functionality was to see if the ratings of functionality provided a better relationship to the other factors, like type of drug and length of use, than the rating of the severity of a respondents symptoms.
There is a fairly strong relationship between functionality and severity of symptoms for these respondents. As the average severity of symptoms increased the average rating of functionality goes down, as one might expect. For instance those who rated their symptoms between nothing and mild reported that they were, on average able to participate in around 7 of the 9 activities with ease, compared with those who were experiencing moderate to severe symptoms who were only able to participate, on average, in around one activity.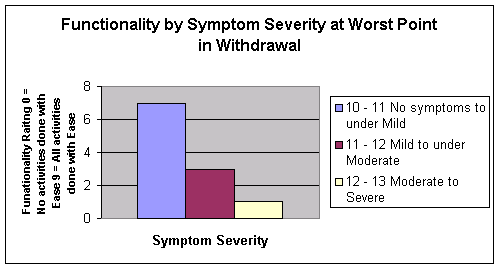 In each of the symptoms groups there was still quite a variation in the number of activities that were able to do done with ease. Some respondents said that despite their symptoms being between moderate and severe, they were able to participate in 7 activities with ease.
No. of Activities Done with Ease
Under Mild
Mild to under Moderate
Moderate to Severe
Maximum
9
9
7
Minimum
3
0
0
The relationship between functionality rating and age, type of drug, time on the drug and dose size was investigated. The only one where a minor trend may have been seen for these respondent's, was that between functionality and dose size. This is shown in the graphs below, taken at two points in the benzo journey. There seems to be a tendency towards less functionality being experienced by those on higher doses. This trend notably reversed by those in the 80 - 100mg group.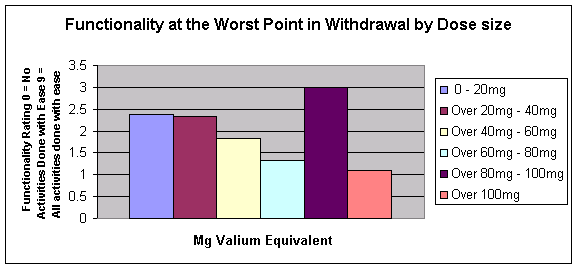 No. of Activities Done with Ease
0 - 20mg
20mg - 40mg
40mg - 60mg
60mg - 80mg
80mg - 100mg
100mg
Maximum
9
9
8
3
9
8
Minimum
0
0
0
0
0
0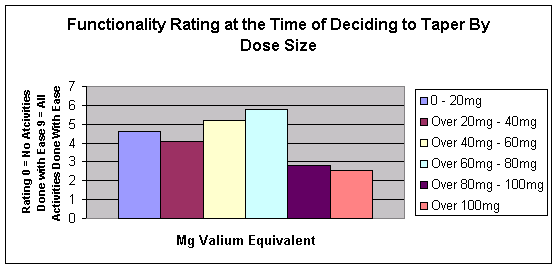 No. Of Activities Done With Ease
0 - 20mg
20mg - 40mg
40mg - 60mg
60mg - 80mg
80mg - 100mg
100mg
Maximum
9
9
9
9
9
9
Minimum
0
0
0
0
0
0