All data must be read in conjunction with the survey limitations.
The graph below gives an indication of the severity of symptoms that were being experienced by survey respondents at each of nine points during the benzo journey. The average was calculated for all symptoms at each stage.
The graph is showing that prior to taking benzodiazepines respondents indicated that they were experiencing some symptoms but were rating these symptoms on average just below mild. At the time they decided to withdraw from benzodiazepines, the symptom rating had increased to an average of 11.5, half-way between mild and moderate. At the worst point in withdraw the average rating had increased to just over 12, a rating of moderate. By the end of the taper the average rating had dropped to just over 11.5, half-way between mild and moderate.
Symptoms were on average worse for respondents at the worse point in their withdrawal.
Looking at the average symptoms for the groups that were not well 12, 24 and 36 months after withdrawal, a general trend towards a decrease in the average symptoms rating is noticed as time passes.
Those who decided to stay on their benzodiazepine reported that the average symptoms they were experiencing at the time they made that decision was 11.2, just over mild.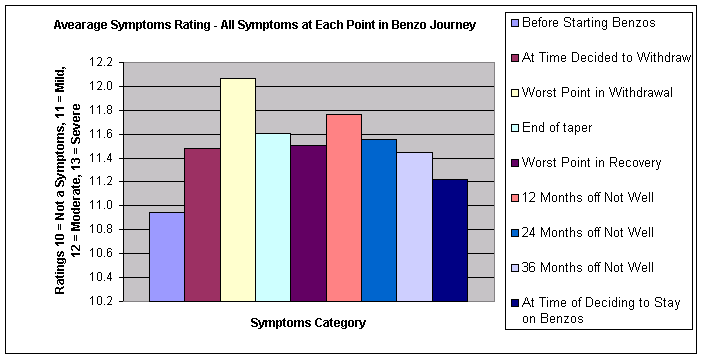 The graph below shows which of the symptom categories bothered people the most, averaged over all surveys. The big four are the musculoskeletal, neurological, paradoxical and psychiatric categories.