All data must be read in conjunction with the survey limitations.
Another way to try and determine what might affect withdrawal and recovery would be to see if there were any statistical variation between those who were in the group that were recovered from their withdrawal experience and those that were still unwell at 12, 24 and 36 moths off.
Those in the unwell group were slightly older than those in the recovered group, although a 2 year difference in average age doesn't seem significant.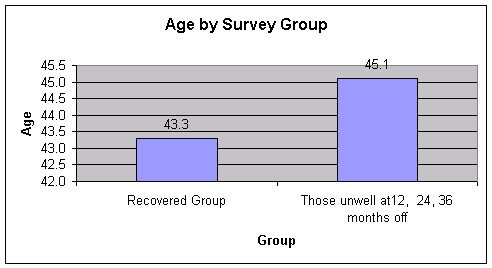 The graph below shows the various withdrawal methods used by the two groups. The unwell group had a higher percentage of respondents who got off the majority of their benzo using the cold turkey and the rapid direct cutting method. The recovered group had a higher proportion who used the slow direct cutting method and water titration.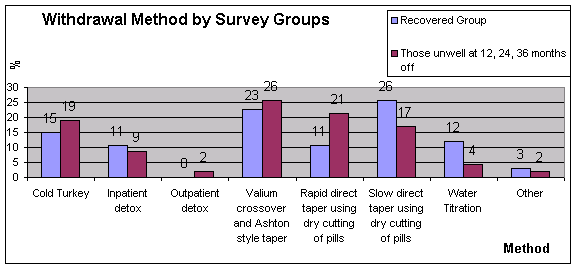 Those in the recovered group had a tendency to have been taking benzos for a shorter period of time. With the exception of those taking benzos for more than 20 years both the recovered and the unwell group were represented in each of the time groups.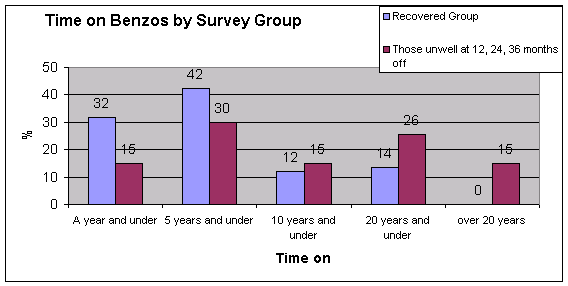 There were only very minor differences in the amount of benzo being taken by the two groups.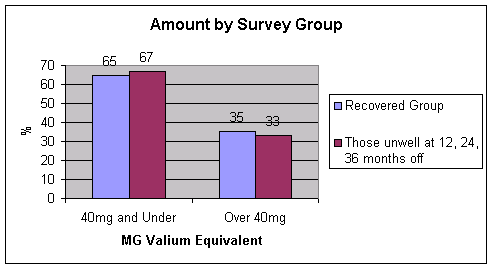 There was a tendency for those in the unwell group to rate the most difficult point in their withdrawal as more difficult than the recovered group.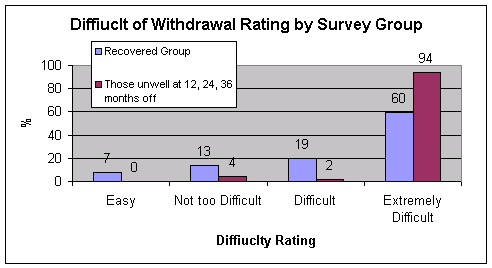 The unwell group rated themselves as less functional than the recovered group at the worst point in their withdrawal. For instance 45% of the unwell group said that they could do none of the nine functionality activities with ease compared with 27% from the recovered group. Two percent of the unwell group said that they could do all nine activities with ease while 13% of the recovered group found themselves in this situation.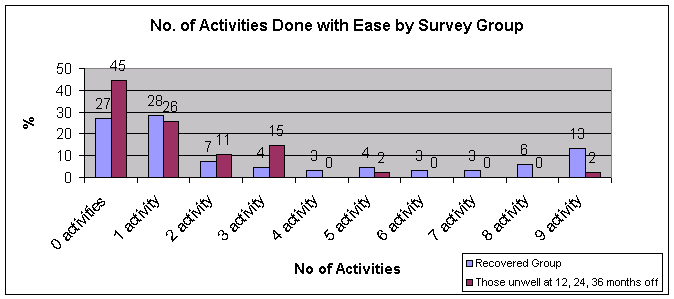 The unwell group were more likely to report that their symptoms, at the worse point in withdrawal, were moderate to severe (70%) compared to the recovered group (48%).