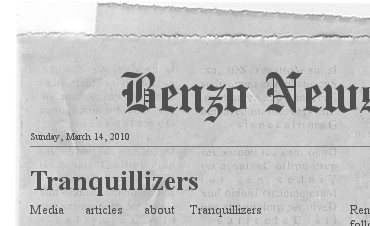 GPs warned to steer clear of the tranquilliser trap Doctors are being told to curb the prescription of sleeping pills and tranquillisers to millions of people after admitting that they can be highly addictive and have devastating consequences.
Benzodiazepines revisited--will we ever learn? Malcolm Lader Addiction Research Centre, Institute of Psychiatry, King's College London, London, UK. malcolm.lader@kcl.ac.uk

Abstract

AIMS:

To re-examine various aspects of the benzodiazepines (BZDs), widely prescribed for 50 years, mainly to treat anxiety and insomnia. It is a descriptive review based on the Okey Lecture delivered at the Institute of Psychiatry, King's College London, in November 2010.

METHODS:

A search of the literature was carried out in the Medline, Embase and Cochrane Collaboration databases, using the codeword 'benzodiazepine(s)', alone and in conjunction with various terms such as 'dependence', 'abuse', etc. Further hand-searches were made based on the reference lists of key papers. As 60,000 references were found, this review is not exhaustive. It concentrates on the adverse effects, dependence and abuse.

RESULTS:

Almost from their introduction the BZDs have been controversial, with polarized opinions, advocates pointing out their efficacy, tolerability and patient acceptability, opponents deprecating their adverse effects, dependence and abuse liability. More recently, the advent of alternative and usually safer medications has opened up the debate. The review noted a series of adverse effects that continued to cause concern, such as cognitive and psychomotor impairment. In addition, dependence and abuse remain as serious problems. Despite warnings and guidelines, usage of these drugs remains at a high level. The limitations in their use both as choice of therapy and with respect to conservative dosage and duration of use are highlighted. The distinction between low-dose 'iatrogenic' dependence and high-dose abuse/misuse is emphasized.

CONCLUSIONS:

The practical problems with the benzodiazepines have persisted for 50 years, but have been ignored by many practitioners and almost all official bodies. The risk-benefit ratio of the benzodiazepines remains positive in most patients in the short term (2-4 weeks) but is unestablished beyond that time, due mainly to the difficulty in preventing short-term use from extending indefinitely with the risk of dependence. Other research issues include the possibility of long-term brain changes and evaluating the role of the benzodiazepine antagonist, flumazenil, in aiding withdrawal.
Withdrawing benzodiazepines in primary care. Malcolm Lader
Lader M, Tylee A, Donoghue J.


Source

Institute of Psychiatry, King's College London, London, England. m.lader@iop.kcl.ac.uk


Abstract

The use of benzodiazepine anxiolytics and hypnotics continues to excite controversy. Views differ from expert to expert and from country to country as to the extent of the problem, or even whether long-term benzodiazepine use actually constitutes a problem. The adverse effects of these drugs have been extensively documented and their effectiveness is being increasingly questioned. Discontinuation is usually beneficial as it is followed by improved psychomotor and cognitive functioning, particularly in the elderly. The potential for dependence and addiction have also become more apparent. The licensing of SSRIs for anxiety disorders has widened the prescribers' therapeutic choices (although this group of medications also have their own adverse effects). Melatonin agonists show promise in some forms of insomnia. Accordingly, it is now even more imperative that long-term benzodiazepine users be reviewed with respect to possible discontinuation. Strategies for discontinuation start with primary-care practitioners, who are still the main prescribers.This review sets out the stratagems that have been evaluated, concentrating on those of a pharmacological nature. Simple interventions include basic monitoring of repeat prescriptions and assessment by the doctor. Even a letter from the primary-care practitioner pointing out the continuing usage of benzodiazepines and questioning their need can result in reduction or cessation of use. Pharmacists also have a role to play in monitoring the use of benzodiazepines, although mobilizing their assistance is not yet routine. Such stratagems can avoid the use of specialist back-up services such as psychiatrists, home care, and addiction and alcohol misuse treatment facilities.Pharmacological interventions for benzodiazepine dependence have been reviewed in detail in a recent Cochrane review, but only eight studies proved adequate for analysis. Carbamazepine was the only drug that appeared to have any useful adjunctive properties for assisting in the discontinuation of benzodiazepines but the available data are insufficient for recommendations to be made regarding its use. Antidepressants can help if the patient is depressed before withdrawal or develops a depressive syndrome during withdrawal. The clearest strategy was to taper the medication; abrupt cessation can only be justified if a very serious adverse effect supervenes during treatment. No clear evidence suggests the optimum rate of tapering, and schedules vary from 4 weeks to several years. Our recommendation is to aim for withdrawal in <6 months, otherwise the withdrawal process can become the morbid focus of the patient's existence. Substitution of diazepam for another benzodiazepine can be helpful, at least logistically, as diazepam is available in a liquid formulation.Psychological interventions range from simple support through counselling to expert cognitive-behavioural therapy (CBT). Group therapy may be helpful as it at least provides support from other patients. The value of counselling is not established and it can be quite time consuming. CBT needs to be administered by fully trained and experienced personnel but seems effective, particularly in obviating relapse.The outcome of successful withdrawal is gratifying, both in terms of improved functioning and abstinence from the benzodiazepine usage. Economic benefits also ensue.Some of the principles of withdrawing benzodiazepines are listed. Antidepressants may be helpful, as may some symptomatic remedies. Care must be taken not to substitute one drug dependence problem for the original one.

Xanax, Valium may increase dementia risk in older adults
By MyHealthNewsDaily staff
Older adults taking psychiatric medications such as Valium or Xanax may be at increased risk of dementia, a new French study suggests.
Prescribed Addiction - Face the Facts
Four in five GPs prescribe drugs to patients they believe are addicted
How the FDA Is Sleeping Through the Xanax Epidemic
Misery of the tranquilliser addicts forced to go cold turkey by GPs By Jo Waters
Drugs linked to brain damage 30 years ago - MPs and campaigners predict class action after failures to mount full-scale research into warnings left millions of patients at risk By Nina Lakhani
John Perrott's Meeting with the Royal College of General Practitioners - Proposed agenda for discussion on involuntary tranquilliser addiction with Dr Harris, Head SMU, RCGP, Simon Ashmore, Head of Communications RCGP and John Perrott, Lancaster, Monday 28th March 2011.
Doctors ignored drugs warnings - A 30-year-old document revealing doctorsí fears about the number of people addicted to benzodiazepine drugs has been uncovered by the Beat the Benzos group.
Valium users worse drivers than drunks
Valium prescriptions soar during recession - By Laura Donnelly, Health Correspondent
Agony of the very unlikely addicts: Thousands of over-60s are hooked on tranquillisers that have turned them into virtual zombies By Jo Waters
CRACKDOWN ON THE KILLER TRANQUILLISERS - By Lucy Johnston "A RANGE of powerful tranquillisers could be put under strict controls after being linked to a series of high-profile deaths. "