All data must be read in conjunction with the survey limitations.
The graph below summarizes the different methods that respondents used to try to get off benzodiazepines. An alarming 70% attempted a cold turkey.
(Note the cold turkey method of getting off benzodiazepines is not a safe method to withdraw from these drugs. It is not a method that is recommended by the medical profession or the drug companies.)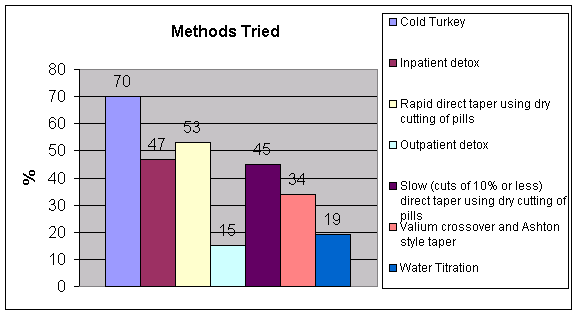 Respondents tried a variety of different methods to get off their benzo. Fifty-eight percent (58%) tried just one method and some tried as many as five methods.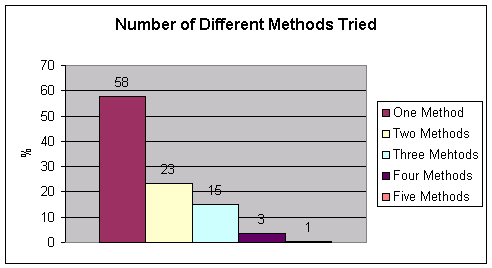 The graph below shows what method respondents used to come off the majority of their benzodiazepine. The Valium crossover and taper was the most popular method used with 23% of respondents opting for this method.

Respondents were asked to rate how difficult they found each of the methods they used to try and withdraw from their benzodiazepine. The scores used were 1 = Impossible, 2 = Difficult, 3 = Bearable, 4 = Easy. The average score for each method was calculated - the results are below. The cold turkey method got an average score of 1.5 - half way between impossible and difficult. Water titration scored 2.8 - just below bearable.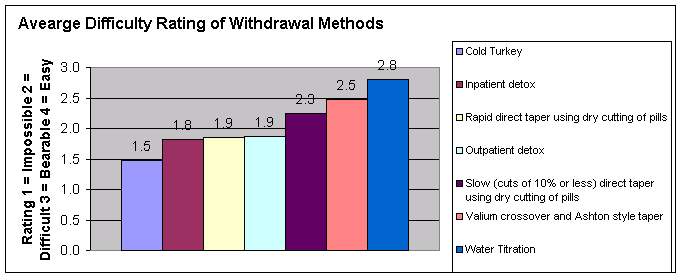 The graph below shows the percentages of respondents who gave the method they tried a rating of 1 = Impossible. Sixty percent (60%) of those who tried a cold turkey rated it impossible. Seven percent (7%) rated water titration as impossible.

Many respondents found the various methods difficult.

The methods which were rated most bearable were the Valium crossover and taper and the water titration method.

Twenty-three percent (23%) rated the water titration method as easy. The nearest rival was the Valium crossover and taper but only 9% rated this method as easy.