All data must be read in conjunction with the survey limitations.
It was thought that those who felt they needed to work to support themselves during withdrawal and recovery and those who had young families or elderly parents to care for would have have greater difficulty with withdrawal and recovery than those that didn't. On average the opposite seemed to be true.
Those who had to work for a living rated the difficulty of their withdrawal the same as those who didn't but they rated themselves more functional and they recovered a little sooner.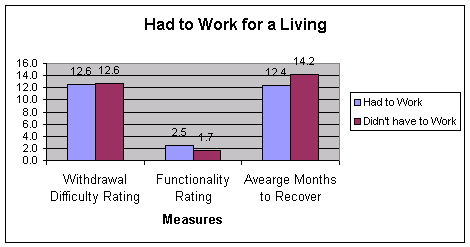 The same situation occurred with those who needed to care for a family.